Following a competitive tender Oakleaf were awarded a contract by the London School of Economics and Political Science (LSE) to undertake fire risk assessments and produce CAD fire plans across the LSE estate. This included both academic properties and student residences. As well as the initial fire risk assessments, the contract also included an initial 12 month agreement for Oakleaf to provide ongoing fire safety advice and support to LSE, as and when the need arises.
As part of this additional service Oakleaf have provided reports and expert opinion on a range of topics, including:
staff levels at student accommodations
expert views on fire doorsets
review of the locations of assembly points
advising on the re-planning of means of escape
a review following a fire in a student accommodation block.
The LSE estate is located in central London, and includes a wide range of building types, including high-rise teaching and accommodation properties, many of which are substantial multi-storey buildings. In total over 50 properties were surveyed with reports and fire drawings provided to the client over a four month time period, which was well within the six month deadline set by the client.
Pre-contract key performance indicators (KPIs) were agreed with the client prior to work beginning, and these included specific response times for certain services, including a guaranteed response to all requests within 24 hours. During the course of the fire risk assessment surveying period there was a requirement that Oakleaf project management staff be available for meetings with the client within five working days.
In order to ensure the clients satisfaction with the reports being produced, once completed each report was reviewed with the client and interested stakeholders in a follow up meeting, with amendments being made as necessary prior to issuing the final report. Monthly progress meetings were held, and these were supplemented by weekly email updates detailing the properties that had been surveyed, and the status of the outstanding reports.
Oakleaf Surveying Ltd
Access to many of the LSE properties is restricted, particularly in the student residences. In order to keep the occupants of the buildings, including students in accommodation, aware of the surveys being undertaken, LSE advertised the surveys on their intranet, as well as on notice boards around the campuses. Oakleaf staff were issued with security passes, and had to book appointments with the individual building managers in order to be permitted to complete the surveys. Certain sensitive areas also required appointments with key staff, and it was important that they were kept. A procedure was agreed should be there be no access available to a building, or area of a building; this required Oakleaf to liaise with the client to rearrange the visit with a specific appointment.
Oakleaf operate a Quality Assurance process in compliance with ISO 9001: 2008. As part of this all fire risk assessment reports undergo a peer review by one of our fire safety consultants, as well as a quality review by our quality manager. This helps to ensure that the report is both technically sound as well as simple to understand and easy to use.
Oakleaf have also achieved UKAS accreditation of our fire risk assessment service, in compliance with BAFE SP-205, which requires third party accreditation of our consultants and their work by the National Security Inspectorate (NSI).
Is Your Building Accessible to Disabled People?
Is Your Building Accessible to Disabled People? As a building manager, one of the most…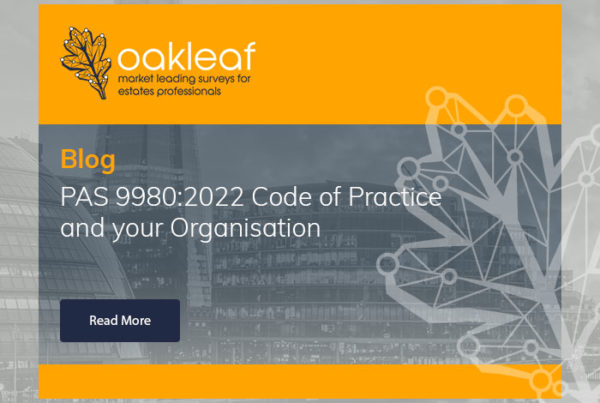 PAS 9980:2022 Code of Practice and Your Organisation
PAS 9980:2022 Code of Practice and Your Organisation Tragedies such as the Grenfell Tower fire…